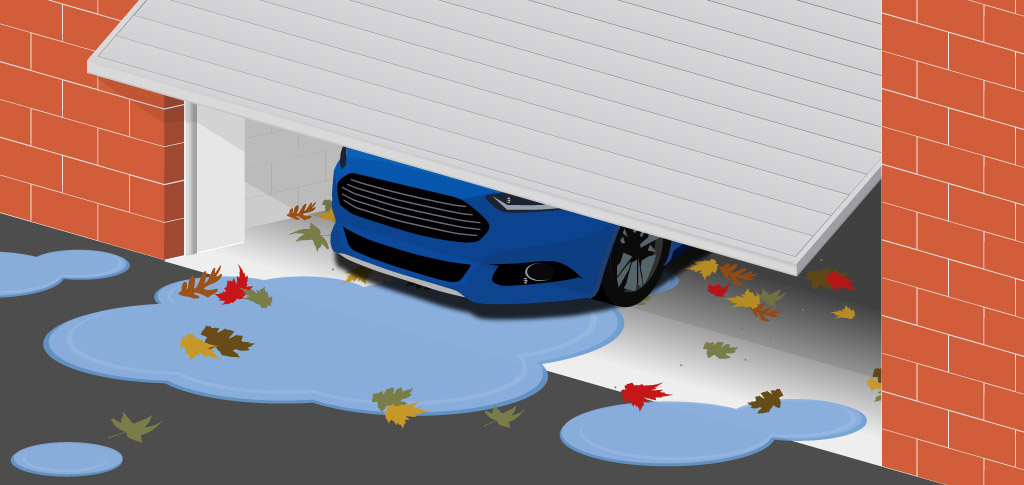 Introducing Weather Defender, the all in one Garage Door Seal
The Weather Defender garage door seal keeps your garage clean and tidy throughout the year. Quick and easy to install yourself with instant results!
 Stops rainwater, draughts and leaves
Available in 11 different lengths
 The new XL version available as 'cut to size'
 Easy-to-fit with instant results
 Forms a watertight seal
 Keeps your garage dry and clean
 Bright yellow safety strip across the length
 Suitable for various sizes of gap
 Made from eco-friendly material
 Ridges on the top, reduce the risk of slipping
 High quality, flexible, eco-friendly PVC
The Ultimate Garage Door Seal
Our Garage Door threshold kits include weather stripping adhesive to secure the threshold in place (the new XL does not include adhesive) and provide a watertight seal between the bottom of the garage door and the floor, and also comes with easy to follow step-by-step instructions.
Unique & Innovative Design
The yellow safety strip ensures the weather seal is highly visible for people and vehicles moving in and out of the garage.
The easy tear-off strip can be torn away when fitting the garage door seal to a roller shutter door, to create a straight edge.
Anti slip ridges prevent humans as well as vehicles slipping when crossing over the threshold seal.
Serrated grooved base has been designed to create an ideal surface to provide excellent adhesion for the sealant and floor.
Customer Reviews
Recommended
Easy to fit, cut to length with stanley knife. Had it a while now and no leaks at all, no wet garage floor any more. Recommended.
By Sean Steer on 13 May 2016
★ ★ ★ ★ ★
Does job
Great weather defender for garage.
By KSSidhu on 18 August 2017
★ ★ ★ ★
Worked perfectly
Excellent. Worked perfectly.
By Roddy Duthie on 16 January 2016
★ ★ ★ ★ ★
Does just the job
Fits well and keeps to rain out.
By Amazon Customer on 27 July 2017
★ ★ ★ ★ ★
Very pleased
Excellent product - does what it promises!
By Alan30 on 19 August 2016
★ ★ ★ ★ ★
Very good
Five Stars.
By Clr on 8 March 2017
★ ★ ★ ★ ★
Five Stars
Excellent, easy to put in place and stops weather ingress.
By Amazon Customer on 3 December 2016
★ ★ ★ ★ ★
Easy to fit
Did the job.
By Amazon Customer on 5 October 2016
★ ★ ★ ★
Five Stars
Works a treat.
By treasure barringer on 13 May 2017
★ ★ ★ ★ ★
Five Stars
No problems prompt service.
By shrop on 21 March 2017
★ ★ ★ ★ ★
Easy to lay
At last a product that does what it says on the tin!!! Easy to lay and effective at keeping out the rain water.
By joni on 16 June 2016
★ ★ ★ ★ ★
Looks good, works well
Works as it says it would - although I thought I should prepare the base concrete to get a flat surface to fit it - which took a bit more time. Looks good, works well, easy to fit.
By Frankwdt on 21 August 2017
★ ★ ★ ★ ★
Good quality
Sticks really well and solves the space under our garage door.
By Amazon Customer on 27 August 2016
★ ★ ★ ★ ★
Five Stars
Excellent very pleased easy to install.
By Amazon Customer on 10 June 2017
★ ★ ★ ★ ★
Keeps the garage dry
Keeps the garage clear of leaves etc and dry.
By Angela Deadman on 15 January 2017
★ ★ ★ ★
Five Stars
BRILLANT PRODUCT
By JOHN MORRISSEY on 16 April 2017
★ ★ ★ ★ ★
Came in good time
Package came in good time and was as stated, cannot say it works as it has not rained since fitting.
By Lynne Gwilt on 5 June 2016
★ ★ ★ ★ ★